"How are you today?" Southeast Dominican Conference president Gabriel Paulino asked as he welcomed those church members and guests who packed the Ureña IV Seventh-day Adventist Church in Santo Domingo, Dominican Republic, on August 26.
He hardly had to wait one second for an answer.
"¡Creciendo, avanzando, y a Cristo esperando!" ("Growing, moving forward, and waiting for Jesus!"), church member Juana Tejada shouted in Spanish from her seat in the back of the building.
Tejada was one of the scores of members and guests who attended the official inauguration of the new church building, which was funded by Maranatha Volunteers International, a supporting ministry of the Adventist Church. Launched in 1969, Maranatha uses funds from donors and supporters to build churches and schools and dig water wells in countries around the world.
After several past church building stints in Dominican Republic, in 2022 Maranatha returned to build dozens more churches. It will also build "Ciudad del Cielo" ("City of Heaven"), an Adventist campus that it is expected to be completed by 2025 and will include a spacious Education and Evangelism Center, a building with multiple classrooms, offices, bathrooms, and an auditorium, plus a large church for more than 400 people.
Dozens of these congregations in Santo Domingo can trace their roots to the Caleta Central Seventh-day Adventist Church, the first church building that Maranatha built in the country, in 1992. Caleta Central became the "mother" of dozens of other congregations in the area, as local church members moved to plant new churches in other neighborhoods of Santo Domingo. According to church leaders, the Ureña IV church, a church plant out of the Ureña I congregation, is a "great-granddaughter" — a fourth-generation church plant — of the original ones.
A Meaningful Inauguration
During the August 26 inauguration ceremony at Ureña IV, local church leaders said they were thankful for God's blessings and Maranatha's support to make their long-held dream come true. Now they are committed to keep working to grow their congregation. "Very soon, this church will double, and we hope that by then, Maranatha is able to come here again to support us," they said.
Leaders also celebrated the fact that in the Ureña IV church, a significant percentage of members are teens and young people. "Having so many young people is a real blessing," they said.
Touching Lives
In the Ureña IV dedication message, Dominican Union Conference president Teófilo Silvestre called church members to make God the center of everything they do. In that sense, he said, their new church building should become a hub of activity, because "the best place to be is in God's house," he said, referencing Psalm 84:10.
Silvestre said members should be thankful for having a special place to meet God, and thanked all those who made it possible. "First, to God Himself, who is creating a place of refuge for the community in this place," Silvestre said.
He also thanked Maranatha, a ministry that, according to him, is fulfilling the mandate of this psalm. "Maranatha brings happiness to the people, because every time a church is built and we can come to worship God, we feel happy," Silvestre said.
As in many other cases, the stories of church leaders are somehow intertwined with the history of Maranatha. Silvestre is not an exception.
Silvestre shared how, when he was growing up, he was baptized as a teenager in 1989, the first in his family. He remembered attending a congregation in the city of San Antonio de Macoris. "It was a wooden church building in disrepair," Silvestre said. "We regularly prayed for the wind not to destroy our church."
That sad and rather dangerous situation went on until one day, Maranatha arrived and built a solid church structure there. It was a life-changer, Silvestre said.
As he turned to Maranatha's leaders who were listening to his experience, Silvestre, now the leader of a thriving church family, thanked them once more for their commitment. "You don't only build churches," he told them. "You touch lives."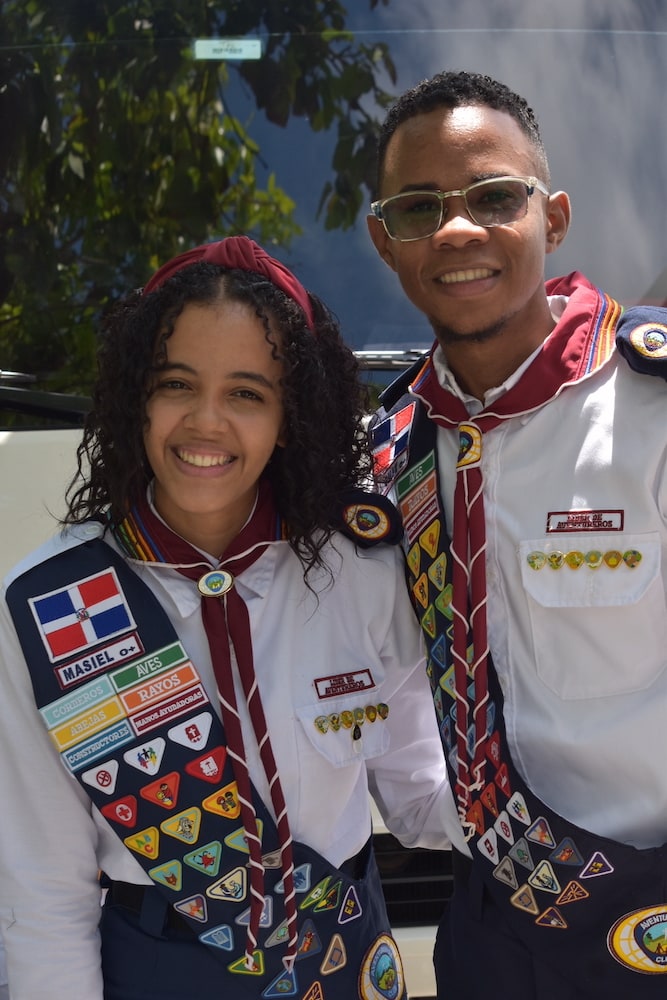 An Ark of Salvation
At the Unidos en Cristo (United in Christ) church inauguration a couple of hours later, Dominican Union Conference treasurer Winston Hiciano also called church members and community guests to see that their new church is much more than just a building. "To save lives, God creates an ark of salvation," he said, referencing the new building. He contrasted the comfortable but massive wooden pews and state-of-the-art ceiling fans with the original building. "The only thing that held this church building together was termites," he quipped. Now, the brand-new building is bound to become a witnessing tool in the area, he said.
Maranatha's president Don Noble agreed. "A respectable building adds character to God's work in this neighborhood," he said.
Noble shared how, together with his brother and sister, he decided to choose and fund one church in the Dominican Republic in memory of his mother, Beverly Noble, and his cousin's mother, Joan Wildman, "two fine Christian ladies," he said, who recently passed to their rest. "Most of the funds for this church came from our family," he shared.
Nothing But Mission
Paulino also called church members to use the new Unidos en Cristo building as a mission center as he reflected on the meaning of the church's name. He charged them to imitate the example of the members of the early church, who "continuing daily with one accord in the temple, and breaking bread from house to house, they ate their food with gladness and simplicity of heart, praising God and having favor with all the people" (Acts 2:46, 47).
The result of such commitment didn't take long to come, Paulino said, because "the Lord added to the church daily those who were being saved," he read.
It is perhaps the reason that Tejada and others didn't hesitate to shout again to the top of their lungs when asked once more how they were doing. And she would repeat it to anyone who would listen. "We are growing, moving forward, and waiting for Jesus!"
Maranatha Volunteers International is an independent nonprofit ministry not operated by the corporate Seventh-day Adventist Church.