By Adventist Review staff
Many people mark a 70th birthday with flowers, cake, and a card. Scholars celebrate by publishing a book.
Church leaders and colleagues honored Ángel Manuel Rodríguez, former director of the Biblical Research Institute, on his 70th birthday on April 20 with the publication of a volume of essays titled, The Great Controversy and the End of Evil.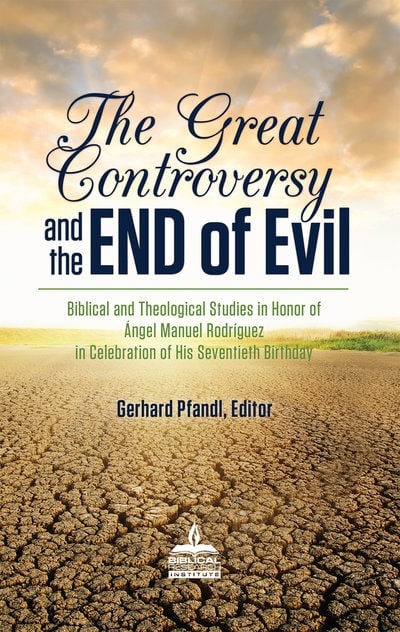 Gerhard Pfandl, the book's editor and a former associate director at the Biblical Research Institute, presented a copy to Rodríguez at a Biblical Research Institute committee meeting at Loma Linda University.
"The event was appropriately celebrated by remembering God's goodness in the life of one of his servants," said Gerald A. Klingbeil, associate editor of the Adventist Review, who attended the gathering and contributed a chapter to the book. "We also shared some ice cream, a favorite of Dr. Rodríguez's, reminding everyone that the best is yet to come."
General Conference president Ted N.C. Wilson and Biblical Research Institute director Artur Stele joined other well-wishers in thanking Rodríguez for his long career as pastor, teacher, college president, and, finally, institute director.
Rodríguez retired from the institute in 2010.
The scholars, perhaps better known for academic rigor than playfulness, shared a lighter moment as they posed for a group photo. Myron Iseminger, undersecretary at the General Conference, snapped a picture of Tom Shepherd, professor of New Testament at the Seventh-day Adventist Theological Seminary, teasingly giving Rodríguez the bunny fingers as group members chuckled.
The new hardcover book contains 27 scholarly chapters written by colleagues and friends and covers three main areas of Rodríguez's research interest: theodicy and the great controversy; sanctuary and salvation; and eschatology.
The book, whose full title is The Great Controversy and the End of Evil: Biblical and Theological Studies in Honor of Ángel Manuel Rodríguez in Celebration of His Seventieth Birthday, is available on the website of the Biblical Research Institute. It is on sale for $11.99 until July, a discount from its regular price of $19.99.