By Andrew McChesney, news editor, Adventist Review
How far would you go to draw believers to your church?
The eight members of a struggling church in South Korea made the drastic decision a few weeks ago to hold their worship services only in English — even though no one spoke the language.
To their delight, the church's small hall filled up with 38 people the following Sabbath, and attendance has remained strong since.
The Pangsung Seventh-day Adventist Church, located in Pyeongtaek, about 45 miles (60 kilometers) south of Seoul, offers an important lesson to congregations floundering in increasingly secularized and materialistic societies: You may need to completely rethink your church's culture to win souls, church leaders said.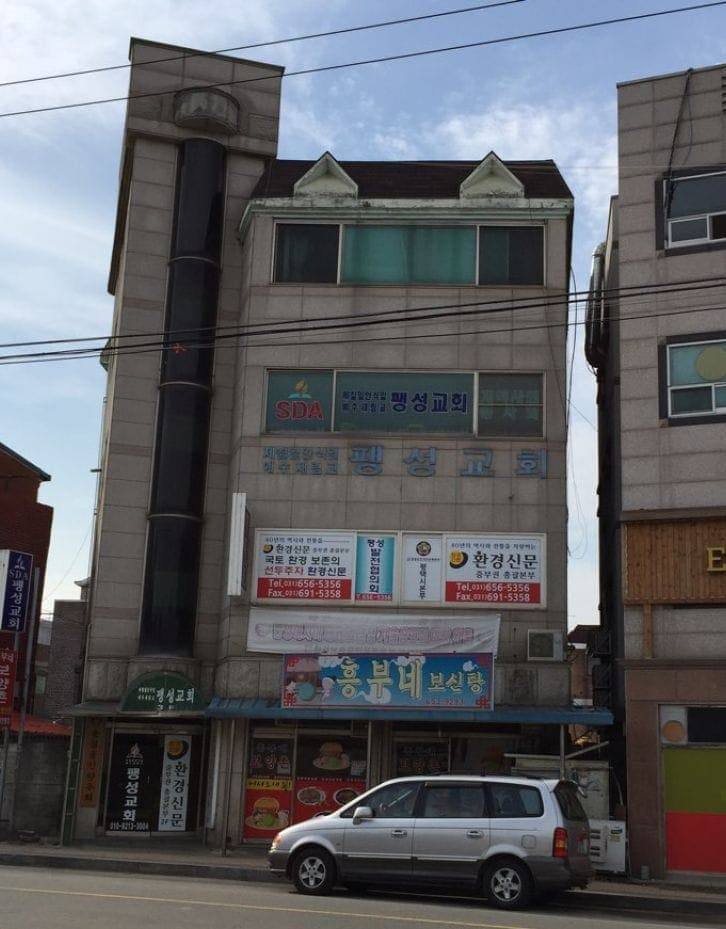 "There was such a big difference in just a week," said Kwon JohngHaeng, a pastor and longtime church planter who first suggested that the Pangsung church embrace English-language services.
The story began on a recent Friday when the Pangsung church's new part-time pastor, Kim Soongi, called Kwon at his office in the headquarters of the Adventist Church's Northern Asia-Pacific Division near Seoul.
After a brief conversation, Kwon learned that the church, which had opened 20 years earlier, was situated only five minutes by foot from Camp Humphreys, a U.S. Army garrison that will become the largest in Asia once the transfer of troops from other parts of South Korea is completed next year.
Kwon attended the church's worship services the next day and called the eight members and their three young children to a special meeting afterward.
"You have done everything for 20 years, but the church is not growing," he said. "Once you had a full-time pastor, but not any more. Why don't you change your vision from only the local Korean people? We have a U.S. army base within a five-minute walk where there may be Seventh-day Adventist service members whom we can serve."
Kwon, who recounted the meeting in an interview in his division office, said the members were excited about the proposal even though he explained to them that the services would have to be in English only. One of the members, a woman who had helped establish the church with her husband two decades earlier, grabbed Kwon in a tight embrace and tearfully expressed hope that the idea would work.
Kwon said he had found in working with other international churches that English-only services tended to be more effective than consecutive interpretation, when a person speaks and then pauses for the translation. If interpretation is needed, then simultaneous translation with headphones is better, he said.
The Pangsung church members decided to start English services the very next Sabbath.
Kwon called a local English teacher from South Africa, Moe Zonke, and secured his assistance in helping Pangsun transform into an international church. With Zonke's help, the church posted the news about their English services on Facebook.
On Sabbath, five U.S. soldiers with 13 family members showed up to worship.
One of them, Candice Roelofs, told the congregation that she had been futilely seeking an English-speaking church for two years. She showed sharing cards that she had made with the words "Jesus loves you" in English and Korean and an empty spot for the address of the church that she hoped to find one day.
"I was looking for a church like this," she said, according to Kwon. "I am very happy."
The church members were thrilled as well, Kwon said. Not only did their attendance more than tripled because of their leap of faith, but they also were able to understand the worship service. A supporting staff member from the base turned out to be a former Adventist pastor who spoke good Korean. He provides simultaneous translation from the back of the hall.
New Ideas, New Directions
God through His providence allowed the Pangsung church seize the opportunity of having the large U.S. base nearby, said Yutaka Inada, the recently elected executive secretary of the Northern Asia-Pacific Division. Other struggling churches will have to pray earnestly to find creative ways to reach their own communities, he said.
"New ideas and new directions are very important," he said in an interview.
He noted that churches in rural areas of the division, which encompasses China, Japan, Mongolia, North Korea, South Korea, and Taiwan, tend to have declining memberships, while those in the cities tend to grow.
David Ripley, the division's outgoing ministerial association secretary, said he has seen churches swell from 150 members to 300 and more after they changed their culture.
"By changing local church culture, churches are able to grow and do different things," he told the division's year-end business meetings a few days ago.
Speaking the Language of Migrants
Kwon, who has served as the division's director of Adventist Mission and Stewardship Ministries, said that embracing a foreign language is a concept that he has seen work well for many churches during his 13 years of church planting in Asia, where many countries have large migrant communities. He said South Korea alone has 1.7 million migrant workers, mostly in big cities, and he has helped open Cambodian, Indian, and Filipino churches to meet their needs.
The Pangsung church, meanwhile, prays that attendance will continue to grow as the word spreads about its English-language services and the last of 28,500 U.S. troops relocate to Camp Humphreys. The Adventist Church's West Central Korean Conference recently voted to change the name of the Pangsung church to the Pyeongtaek International Church.
The initial eight church members have no regrets about giving up their Korean-language services, Kwon said.
"They do not complain because there has been such a big difference in attendance," he said. "They are excited."