Compiled by Andrew McChesney, news editor, Adventist Review
From hackers demanding that an academy pay a $1 million ransom to a church member winning a $1 million sweepstakes, 2014 brought a fair share of quirky news in the Adventist Church.
Here we take a look back at 10 stories that made us laugh, smile, or simply ask, "Why?"
1. Hackers demand $1 million
Anonymous hackers e-mailed the principal of Pine Forge Academy in mid-December with a demand that the Pennsylvania-based boarding school cough up $1 million or face an attack on its computer system.
Pine Forge Academy, the target of the first-ever cyber threat against an Adventist educational institution, has no intention of paying, and the principal immediately contacted the police.
But, as one baffled Adventist Review reader wrote on Facebook, "Silly hackers. What Adventist boarding academy has $1 million?"
Yes, Adventist academies are not known for being flush with cash. In fact, two other Adventist academies rejoiced this year that they managed to acquire much-needed equipment at little or no cost. Shenandoah Valley Academy, located in Virginia, got 300 computers worth $150,000 at no cost from the U.S. government. Blue Mountain Academy in Pennsylvania used a U.S. government auction site to replace all of the old furniture in its dormitories for only $1,500, a savings of more than $125,000.
The two Adventist schools that ended the year sitting pretty were Loma Linda University, which announced a $1.2 billion expansion after receiving a record $100 million gift in July, and Pacific Union College, which got a record $2.4 million donation in June.
2. Church member wins $1 million
The Pine Forge Academy hackers have no reason to target Neil Kroll, a 58-year-old Adventist millwright in Washington state who won $1 million in a sweepstakes in June. He decided to give his windfall to charity.
Kroll, an employee of Weyerhaeuser, one of the world's largest private owners of timberlands, was awarded with the prize by Publishers Clearing House, a marketing company that sells magazine subscriptions and is well known for its $1 million sweepstakes.
Sweepstakes are not a lottery, and Kroll was selected as the winner in a randomized computer drawing.
Kroll, who couldn't recall entering the sweepstakes, was stunned when representatives of Publishers Clearing House showed up at his front door in the town of Castle Rock and presented him with a $1 million check. His first words: "Wow! Praise the Lord!"
He pledged not use any of the money for himself or his wife but instead donate it to good causes such as International Children's Care, an Adventist organization that cares for orphaned children.
3. Dustin Hoffman donates to a church
Speaking of donating to a good cause, Oscar-winning Hollywood actor Dustin Hoffman donated $12,000 worth of commercial kitchen equipment to an Adventist church in Pennsylvania in June.
Hoffman, who was remodeling his kitchen, offered the two freezers and cooking stove to the Pocono Grace Church on the condition that church members pick them up at his Central Park apartment in New York.
The total cost to rent a truck and pay for gas and toll road fees: $300.
Hoffman made the offer because of his family's warm relationship with Lucy Ascencio, a Pocono Grace church member who works for him as a housekeeper and cook, said Don Baker, the church's head elder.
"She had worked for them for a number of years and, according to a representative of the family whom we communicated with, they are very fond of her and appreciated the work she did for them," Baker said.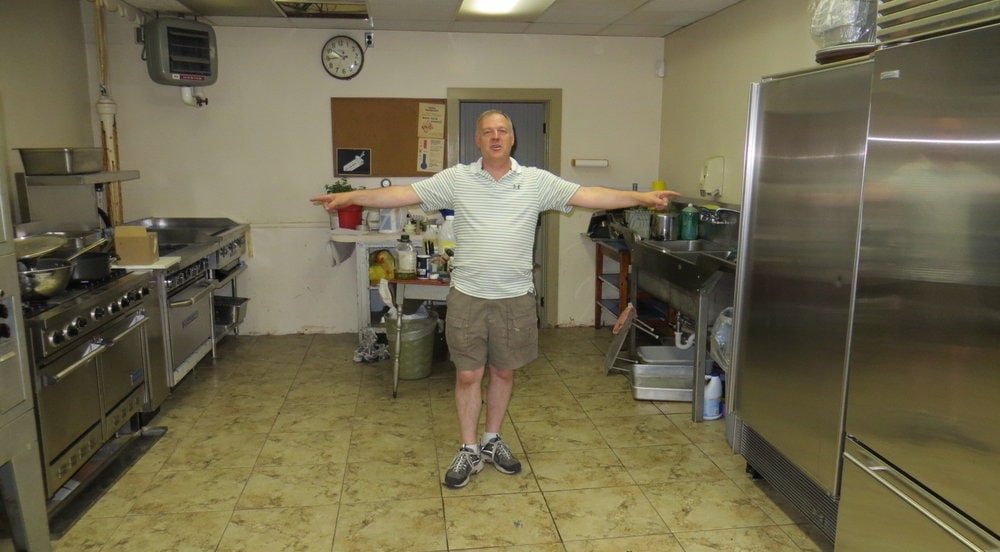 4. Mel Gibson may film Adventist hero
Staying in Hollywood, Oscar-winning director Mel Gibson entered talks in November to direct a movie about Desmond T. Doss, a Seventh-day Adventist who became the first conscientious objector to win the U.S. Congressional Medal of Honor.
If the deal materializes, the movie would be called Hacksaw Ridge, and the role of Doss would be played by Andrew Garfield, star of the Amazing Spider-Man movies.
How Gibson, a Roman Catholic believer, would handle Doss' strong belief in the seventh-day Sabbath and his refusal to carry a weapon or kill for religious reasons remains unclear. Adventist Review readers were split on whether they wanted to see Gibson make a movie about Doss.
"While it would be a great honor to the legacy of Desmond Doss to have a movie produced about his life, I question the wisdom of this," one reader wrote in the comments section after the article. "Do we know that the movie would properly portray the life of Desmond Doss? Would it lift up God to the viewers as Doss always did?"
But another reader argued on Adventist Review's Facebook page that the movie could introduce Gibson to Adventism and provide him with a clearer understanding of the Bible.
5. Church choir saves a robber's life
In a scene straight out of a Hollywood action movie, an Adventist church choir in Jamaica saved the life of a robber who sought refuge from a mob on a Tuesday night in November.
The unidentified suspect ran into the Harrison Adventist Church in the city of Montego Bay after being chased by a furious crowd that accused him and three friends of robbing and stabbing a woman. The crowd stabbed to death one of his friends near the church.
The badly wounded suspect collapsed in a chair behind the pulpit as members of the church choir, who were rehearsing for the Sabbath service, bolted the doors and called the police.
But two members of the crowd managed to get inside the church and rushed to the pulpit.
"The choir director pleaded with them to stop," said Glen O. Samuels, president of the Adventist Church's West Jamaica Conference. "If it had not been for the choir director and choir members intervening, they would have killed him."
The suspected was eventually arrested and taken to the hospital, where he was last reported to be recovering under police guard.
6. Lightning strikes a church
In another odd occurrence at a church, a freak bolt of lightning struck an Adventist church on the island of Bermuda in May, causing no injuries but leaving a gaping hole in the roof of the steeple.
The lightning zigzagged out of the dark night sky just as a thunderstorm peaked over the island around midnight on a Saturday night. The resulting fire destroyed a small part of the church.
"We want the church to be on fire but not like this!" said Sydney Gibbons, executive secretary of the Bermuda Conference of Seventh-day Adventists, according to the local Bermuda Sun newspaper.
The Bermuda church was more fortunate than one in Malawi. Eight Adventists were killed in Malawi's capital, Lilongwe, when lightning hit a church where they were worshiping during the closing Sabbath hours on Dec. 28, 2013. The lightning struck after a day of heavy rain.
5. Liberace's piano goes to church
The church at the Avondale College of Higher Education in Australia has never been damaged by lightening. But it does contain a piano that once brought down the house.
In May, Avondale named its church's concert grand piano "Lady Elle" in a cheeky nod to the fact that it was once played by Liberace, the flamboyant U.S. pianist and vocalist.
The late Liberace used the Yamaha nine-foot piano during a sold-out Australian tour in 1973, his last in the country.
The piano ended up at Avondale after shipping issues delayed the delivery of a smaller piano that had been ordered for the college's annual choir concert in 1974. Lady Elle was delivered instead, and the college community liked the piano so much that they raised the extra money needed to buy it.
Lady Elle has now been a part of college life for 40 years.
"She's invaluable and irreplaceable," said Avondale Conservatorium director Aleta King.
6. Vegetarianism linked to a low sperm count
A student project at Loma Linda University made news around the world in October after a British newspaper wrote an article about it with the eye-catching headline, "Vegetarians Have Much Lower Sperm Counts."
The findings of student projects, which are very preliminary, rarely attract media attention, and it remains unclear why London's Telegraph decided to cover the study. But the article ignited a media blitz. Even popular U.S. comedian Conan O'Brien made a joke about the study on his television show.
The study suggested that vegetarian men have sperm counts of 50 million sperm per ml compared to 70 million sperm per ml for non-vegetarians.
Adventist Review readers immediately took issue, saying their vegetarian diets had absolutely no impact on their fertility. The study's lead author acknowledged that her main finding could be summed up as "more research is needed."
"The health benefits of a vegetarian diet outweigh the finding of the study, and we cannot deny that," said the author, Dr. Eliza Orzylowska.
9. Pastors pray for FriChik
Atlantic Natural Foods, which recently acquired the Loma Linda and Worthington Foods brands of canned soy meat products from Kellogg, invited three Adventist pastors to pray at a dedication ceremony for its manufacturing facility in Nashville, North Carolina, in early December.
The pastors were more than happy to participate, said Rebecca Carpenter, communication director for the church's Carolina Conference. "Atlantic Natural Foods recognizes and values the relationship the Loma Linda and Worthington brands has had with the Seventh-day Adventist church and its members," she said. "They invited our participation as a way of connecting and continuing this relationship, and inviting the Lord's blessing on the new venture."
But the event still sparked a lively discussion among Adventist Review readers, with some questioning the nutritional value of soy meat and one raising the issue of women's ordination.
"We can pray over and dedicate a factory even though that practice is never mentioned in the Bible, but we cannot pray over and dedicate a woman who preaches and is called to be a minister!" the female reader wrote on Adventist Review's Facebook page. "How sad, tragic and far out!"
A confused reader quickly shot back: "How does one take a post about FriChik and make it about women's ordination?"
The ordination discussion ended when a female reader wrote, "What's this at all? I thought it was about dedicating a factory! And yes, they dedicated buildings in the Bible. Everything is not in the Bible, but the wise follow the principles in the Bible. … Please stay on topic and be Christian. … Grind the ax elsewhere."
10. Adventist couple dies holding hands
In one of the most touching offbeat stories of the year, an Adventist couple married for 65 years died holding hands in a hospital room in Brazil.
The couple, Italvino and Diva Possa, were known in life for giving Bible studies and providing clothes to the needy. In death, their devotion to God and each other made headlines across Brazil.
Italvino, 89, died 40 minutes before his wife, Diva, 80, in their hometown of Porto Alegre in southern Brazil on Oct. 3.
Italvino was diagnosed with leukemia in August 2013, and Diva had bladder cancer.
They died in adjacent hospital beds, her hand resting on top of his.
"They were faithful Sabbath-keepers and sought to honor God in everything they did," said their daughter, Rosimar Possa.
Misty-eyed Adventist Review readers praised God for the couple's faithfulness.
"May our loving Heavenly Father be praised for this wonderful couple's love and devotion to Him and to each other," one reader wrote. "What an outstanding testimony to the indwelling power of the Holy Spirit."
May our lives be filled with a similar love for one another and for God in 2015.
---
Related links
"7 Biggest Stories That Shaped the Adventist Church in 2014"
"Their Faith Still Speaks: Notable Adventist Deaths in 2014"