Heavy rainfall recently caused unprecedented flooding in New South Wales (NSW) and Queensland in Australia, with an estimated damage of $AU2 billion (about US$1.46 billion). As soon as flood waters began receding March 3, Adventist Development and Relief Agency (ADRA) volunteers and local Seventh-day Adventist church members joined efforts to meet the urgent needs of the flood-ravaged communities.
In the Lockyer Valley, in Queensland, Gatton Seventh-day Adventist Church is running an evacuation center to serve the worst affected areas since the start of the flood. Volunteers have also provided meals, clothing, and bedding items to the community.
Assisting the impacted community with the cleanup, members of Innovation Adventist Church from North Lakes dedicated their Sabbath (Saturday) to help a family that lost everything to the floods. The Ipswich church also gathered volunteers and organized a community cleanup operation on Sunday.
According to a recent report from ADRA, since early March, a severe food shortage has been developing in the north region of NSW from Kingscliff to Lismore, due to flooding and freeway closures. Food, water, and fuel were listed as the primary needs in the area.
On Sabbath morning, instead of meeting for church, Kingscliff and Gold Coast Central Seventh-day Adventist church members packed 50 food hampers, 43 of which were delivered to those in need in Fingal Head. The remaining seven hampers were delivered to the emergency evacuation center in Murwillumbah.
The team received a special thanks from one of the grateful recipients. "Thank you so much! I have nothing to eat and no money to buy any food. I'm going to church next week!"
In Lismore, NSW, the church, which has been transformed into an emergency evacuation center, received a full load of non-perishable food items March 3. A team of volunteers helped to unload the truck.
Other food shortage responses are being organized. Sanitarium Health Food Company has offered to donate food supplies for 12,000 families. The supplies will be delivered to the Kingscliff and Ocean Shores Seventh-day Adventist churches and distributed across the north NSW affected region.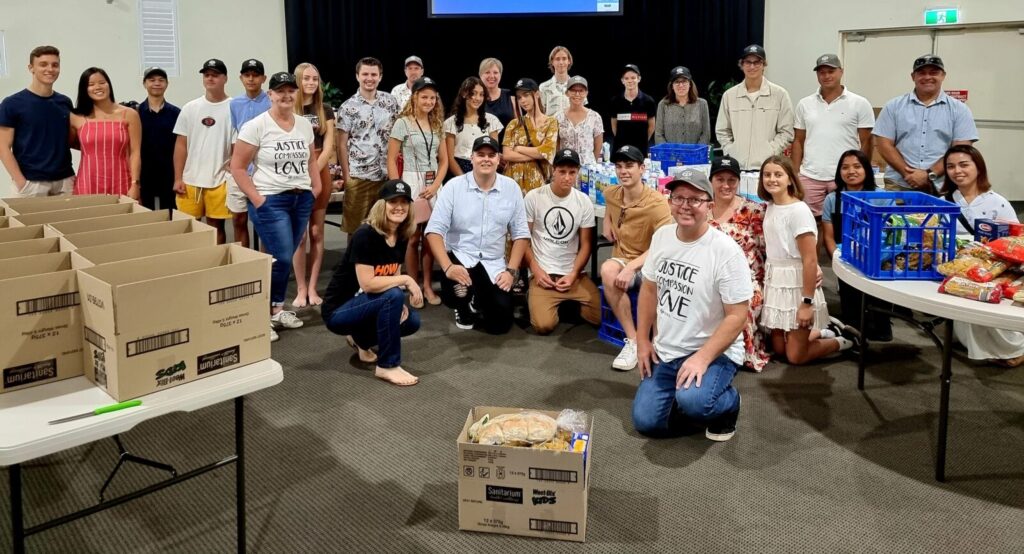 In Murwillumbah, volunteers split their efforts March 3 to assist with the cleanup at the church and in the community. On Sabbath, the church held a shorter service where members shared testimonies before leaving at 10:30 a.m. to assist the community by delivering food and helping with the cleanup.
With the situation still developing and the potential for further flash flooding, church leaders are encouraging members to turn to God in prayer. "Please pray for the affected areas," they said.
The original version of this story was posted on the Adventist Record.