By Victor Hulbert, Trans-European Division
Visitors often comment on a striking fiberglass sculpture portraying the three angels of Revelation 14 that is affixed to the façade of the Seventh-day Adventist Church's Trans-European Division headquarters in St. Albans, England.
The sculpture, an iconic local landmark since the building was constructed in 1964, is one of many religious works of art designed by Adventist sculptor Alan Collins, who died Oct. 18 at the age of 88.
Collins described his artwork as "silent sermons." And they are.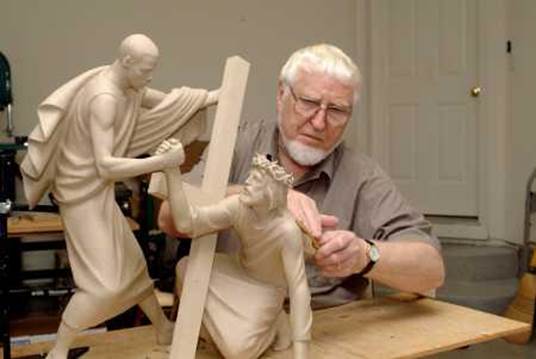 A relief of the "Three Angels of the Apocalypse" hangs in the administration building of Union College in Lincoln, Nebraska. "The Good Samaritan," located on the campus of Loma Linda University in Loma Linda, California, aims to typify the spirit of the university. "Glory of God's Grace" at La Sierra University in Riverside, California, illustrates the parable of the prodigal son. "Sacrificial Service," a sculpture for Oakwood University in Huntsville, Alabama, depicts Simon of Cyrene lifting the cross from a fallen Jesus.
His sculptures illustrate more than biblical narratives. In front of Pioneer Memorial Church on the campus of Andrews University in Berrien Springs, Michigan, stands "Legacy of Leadership," a bronze, life-size sculpture commemorating the departure of John Nevins Andrews from Boston Harbor in 1874, accompanied by his children Charles and Mary, bound for pioneer mission service overseas.
"His family and friends pray that such art can inspire all who see it and be the 'silent sermon' that moves them toward faith in Jesus and the hope of His soon return," the Trans-European Division said Tuesday in a statement.
Collins, born on Aug. 15, 1928, in Beddington, England, developed his artistic skills from a young age, often finding it easier to express himself through visual images than through language. He studied at the Wimbledon School of Art, where he won first prize in a national contest: a scholarship to the Royal College of Art in London. There he studied sculpture.
Among Collins' other most recognized works are the John F. Kennedy Memorial at Runnymede, the meadow on the banks of the Thames where King John sealed the Magna Carta in 1215; and numerous sculptures throughout the Cathedral Church of the Holy Spirit, an Anglican cathedral in Guildford, England. In 1964, the Royal Society for the Arts presented Collins with the Sir Otto Beit award for his stone carving of "St. Martha of Bethany" at Guildford Cathedral.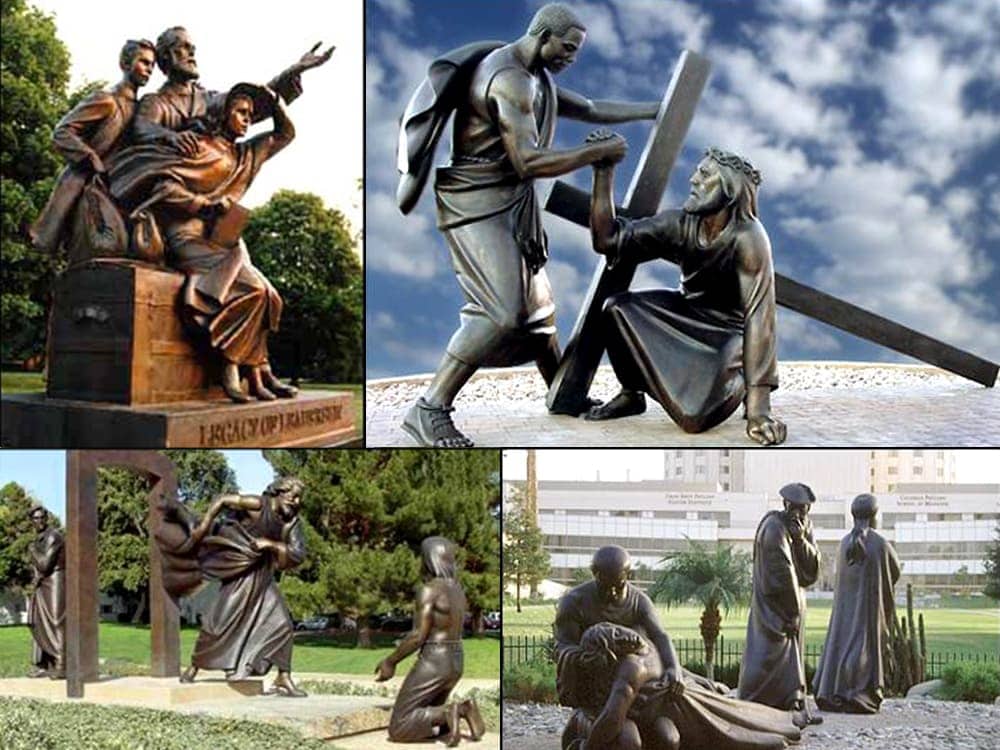 Collins developed a lifelong connection to the Adventist Church after attending a series of meetings by Australian evangelist Thomas J. Bradley in Croydon, England. He became part of the Holloway church family, where he met and married his first wife, Jeanne Fuegi, in 1954. They had a daughter, Marianne; a son, Mark Alan; and grandchildren Pierce and Reese. Jeanne died in 1992 after a five-year illness.
Collins married Aliki Athanasiou Grivas Snow in 1993 at the Pacific Adventist church in California and became stepfather to Demetri, Nicholas, and Philip Snow, and step-grandfather to Alex, Andrew, Sebastian, and Ciara Snow.
Collins taught for more than 20 years at U.S.-based Adventist educational institutions, including Atlantic Union College (1968–71), Andrews University (1971–78) and La Sierra University (1978–89). After retiring, he moved to Phoenix, Oregon, where he continued to create works in bronze, wood, clay, concrete, and stone. He also conducted lectures and showed his work at Adventist educational institutions.
Collins moved back to England in 2013, living in Bridport, Dorset, until his death. He had struggled with poor health in recent years. Following a private cremation, a memorial service will be held in his home "to celebrate the life of this lovely, gentle, man who looked forward to his vision becoming a reality," the Trans-European Division said.
"Our condolences go to his wife, Aliki, his children and step-children and their families, and all those very many who were close to him," the statement said.
"The officers and staff of the Trans-European Division join with religious institutions such as Guilford Cathedral, Andrews, La Sierra, Loma Linda, and Oakwood Universities, and many other places, in mourning his passing. His memory will live on through the sculptures found in prominent places on their campuses," it said.