Compiled by Andrew McChesney, news editor, Adventist Review
Here's a look back at the 10 most popular stories that were published on the Adventist Review's website in 2015.
The stories are ranked by the number of reader views and listed in descending order, with No. 1 being the most popular. Click on the headline (in blue) to read the full story.
---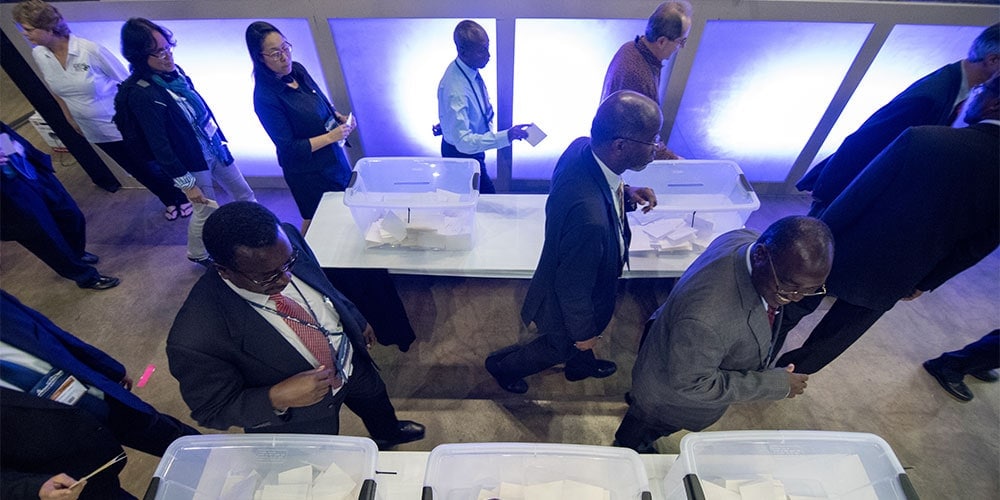 10. Delegates Vote 'No' on Issue of Women's Ordination
Delegates turned down a motion that would have allowed each division of the Seventh-day Adventist Church to decide for itself whether to ordain women to the gospel ministry in its territory.
By a margin of 1,381-977, with five abstentions, delegates by secret ballot ended a five-year process characterized by vigorous and sometimes acrimonious debate on July 8.
General Conference president Ted N.C. Wilson appealed to church members to unite in the mission of the church after the vote at the 2015 General Conference Session in San Antonio, Texas.
"Now is the time to unify under the bloodstained banner of Jesus Christ and His power, not our power," Wilson said after the ballots were counted on tables at the front of the Alamodome stadium. "Now is the time to unify in our mission as Christ's church."
Related story:
Adventist Leaders Appeal for Church Entities to Respect Ordination Vote
---
9. Adventist Mother Among Those Slain in U.S. College Shooting
A Seventh-day Adventist mother was among those killed in a shooting rampage that targeted Christians at a community college in the U.S. state of Oregon.
Sarena Moore, 44, a college student and member of the Grants Pass Seventh-day Adventist Church, died along with at least eight other people in the attack by a lone gunman on Umpqua Community College in Roseburg, Oregon, on Oct. 1.
Moore decided to give her heart to Jesus during an evangelistic series in the Hayfork Seventh-day Adventist Church in the church's Northern California Conference in 2005, said Christian Martin, pastor of the Grants Pass church. She was baptized by pastor Rob Kearbey.
"She was loved right into the family of God," Martin said.
Moore later moved to Oregon and joined the Grants Pass church. She was in her third semester studying business at Umpqua Community College.
"She was thrilled to enroll," Martin said. "She counted it as a direct answer to prayer. She praised the Lord for opening doors for her to pursue a degree in business."
---
8. Adventist Evangelist, 48, Killed in U.S. Plane Crash
William Pergerson, a Seventh-day Adventist evangelist who once refused to share a pulpit with a woman wearing a ring but went on to make Christ and His righteousness the centerpiece of powerful, soul-winning sermons, died in a fiery airplane crash as he prepared for an evangelistic series. He was 48.
Pergerson, a longtime pilot, had just taken off from the airport in Battle Creek, Michigan, for the 20-minute flight to his home in Berrien Springs when his kit-built One Easy plane experienced suspected engine trouble on Aug. 27.
The plane came down in a grassy field near one of the runways during a second attempt to land, exploding in a ball of fire.
Related story:
Evangelist's Plane Was Bouncing Before Crash, Investigators Say
---
7. Young Adventist Filmmaker Turns Bible Prophecy Into YouTube Hit
Seventh-day Adventist filmmaker Christopher Hudson crafted an exploration of the Roman Catholic Church and Revelation 13 into a hip, fast-paced film that went viral on YouTube and even won accolades from some unlikely quarters in pop culture.
The film, "Leopard Vision (Vol. 1)," traces the history of the Roman Catholic Church while underscoring what Hudson sees as the central theme of the last book of the Bible: that the book is a revelation of Jesus Christ, not of political powers or false systems of worship.
"It is my earnest desire that this film will help millions to realize that the events that are now taking place on planet Earth are sure indicators that the word of God is true and that Jesus Christ is coming back to this world very soon," the 38-year-old Hudson told the Adventist Review.
"Leopard Vision," which was financed with a $20,000 budget raised on a crowd-funding website, quickly topped 10,000 views within a day of its Sept. 7 release on YouTube. The film had more than 156,000 views only 10 days later, an unusual amount for an independent documentary about biblical prophecy whose main source of promotion was word of mouth. It had more than 271,000 views by Dec. 28.
---
6. A Jamaican Gives Up His Dreadlocks — His All — for Jesus
Going more than 30 years without a haircut did not disqualify a 66-year-old Jamaican man from baptism. But his decision to dart out of an evangelistic meeting and find a barbershop convinced the pastor that he was willing to sacrifice all for Jesus.
George Johnson, a Rastafarian adherent who had taken a Nazarite vow not to cut his hair, told an astonished audience at a Seventh-day Adventist tent meeting in northern Jamaica in April that he once believed in the divinity of Haile Selassie, the former emperor of Ethiopia, and had made plans to move to Africa.
But now, he said, his loyalty was to the Creator God and he longed to go to heaven.
"Even if I had to cut off my hand to accept Jesus Christ as my Lord and Savior, I would do it," Johnson, freshly trimmed and shaved, said at his baptism.
Because of Johnson's testimony, several people decided to accept Jesus and get baptized during the four-week "Prepare to Meet Thy God" evangelistic series last month. A total of 15 people were baptized.
---
5. Departing Adventists Impress San Antonio Airport Staff
Seventh-day Adventists impressed San Antonio's mayor by providing $20 million in free healthcare to local residents in April.
The 65,000 Adventists who attended the July 2-11 General Conference Session delighted local businesses by spending more than $40 million.
When the session ended, Adventists surprised the staff at San Antonio's airport, which grappled with record waiting lines as attendees flew home.
"In the 16 years that I have worked at this airport, I have seen many groups come through here," a United Airlines agent told Brent Hardinge, a communication officer at the General Conference. "We've had doctors groups, lawyer groups, all sorts of large groups coming through this airport. But I have never seen a group this calm and positive. I've been listening to my radio today, and the other agents are calm, and not stressed. The lines are long out front, and no one is complaining.
"Please share this with your people," the agent said. "I want them to know how much we appreciate working with you."
---
4. Adventist Woman Injured in California Shooting Speaks of Jesus' Return
A Seventh-day Adventist believer who miraculously escaped a mass shooting in southern California with nonlife-threatening head, arm, and leg injuries expressed hope that the tragedy would somehow alert people that Jesus is coming soon.
Amanda Gaspard was overseeing a conference and holiday luncheon organized by the San Bernardino County Health Department at a social services center in San Bernardino, California, when two assailants went on a shooting rampage on Dec. 2, killing at least 14 people and injuring 21.
"She was in charge of the meeting that day. In God's mercy, she had just dismissed everyone for a short break or there would have been more people in the room," her mother, Diane Gaspard, said.
Amanda was hospitalized with multiple injuries, but her mother said she was more concerned for her coworkers than for herself.
"When we talked to her, she said, 'Mama, pray that this incident could be used to witness for the Lord that He is coming soon,'" she said.
Related story:
Adventist Specialist in Pain but Recovering After California Shooting
---
3. Instructor, 23, Killed in Water Accident at Adventist Summer Camp
A 23-year-old wakeboard instructor at a Seventh-day Adventist-operated summer camp in the U.S. state of Georgia died after a water accident at a lake some 30 miles (50 kilometers) from the camp.
Will Green, a long-time staff member at Cohutta Springs Youth Camp and winner of wakeboard competitions, died just a day after the opening of a June 21-28 wakeboard specialty camp for teens aged 13 to 17.
Camp director Rob Lang paid tribute to Green as "one of the most genuine Christian young men."
Green, who worked as a wakeboard instructor at the camp for several summers, spoke about his enthusiasm for wakeboarding and God in a 2012 video posted on the camp's Facebook page.
"If I could have the opportunity to do anything, I'd want to be wakeboarding," he said. "But really to be honest with you, God is way more important to me than wakeboarding. … Wakeboarding is awesome and everything, but God is way cooler."
---
2. Adventist Church Responds to U.S. Same-Sex Marriage Ruling
On June 26, the General Conference and the North American Division released this brief statement about a U.S. Supreme Court ruling on same-sex marriage issued the same day:
"The U.S. Supreme Court on Friday, June 26, released its decision legalizing same-sex marriage across the United States.
"Even with the Supreme Court's decision, the Adventist Church maintains its fundamental belief that marriage was divinely established in Eden and affirmed by Jesus to be a lifelong union between a man and a woman.
"While the church respects the opinions of those who may differ, it will continue to teach and promote its biblically based belief of marriage between a man and a woman.
"The Seventh-day Adventist Church believes that all people, regardless of race, gender, and sexual orientation are God's children and should be treated with civility, compassion, and Christ-like love."
Related stories:
Church Fears Same-Sex Marriage Ruling May Stifle Religious Freedom
Why Adventist Church Isn't Taking Side on Same-Sex Marriage Case
---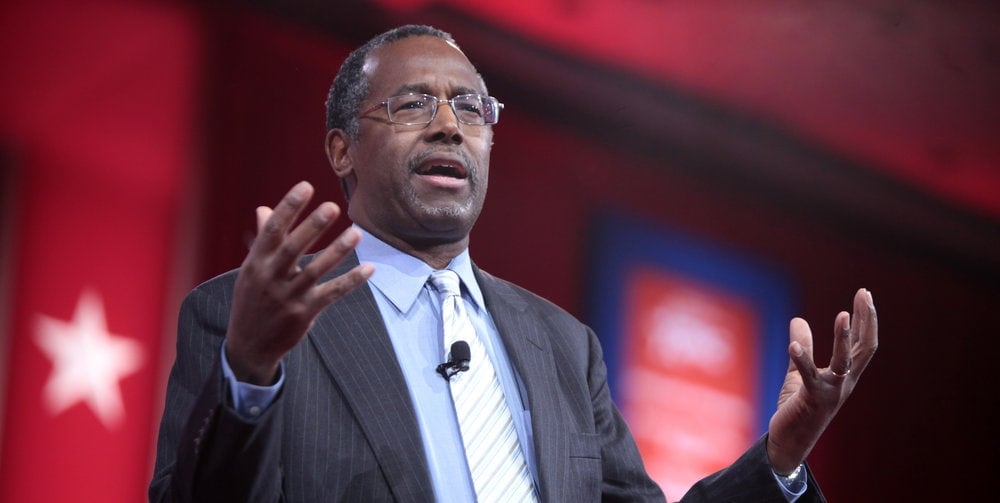 1. Adventist Church in North America Issues Statement on Ben Carson's U.S. Presidential Bid
On May 4, the Adventist Church's North American Division released a statement about a decision that day by Dr. Ben Carson, retired neurosurgeon and Adventist member, to seek the Republican Party nomination for U.S. president.
The North American Division statement reads in part:
"The Adventist Church has a longstanding position of not supporting or opposing any candidate for elected office. This position is based both on our historical position of separation of church and state and the applicable federal law relating to the church's tax-exempt status.
"While individual church members are free to support or oppose any candidate for office as they see fit, it is crucial that the church as an institution remain neutral on all candidates for office. Care should be taken that the pulpit and all church property remain a neutral space when it comes to elections. Church employees must also exercise extreme care not to express views in their denominational capacity about any candidate for office, including Dr. Carson.
"We also want to remind our church members, pastors, and administrators of the church's official position on the separation of church and state. The church has worked diligently to protect the religious rights of all people of faith, no matter what their denominational affiliation."
The article received a staggering 408 comments from readers.
---