On nights when sleep does not come, I lie in bed, repeating Scripture to myself. One of my favorites is Psalm 23. I repeat it to myself in the King James Version in which I learned it, analyze its parts, not looking for the meaning of Hebrew words, but thinking of the past, when my brother was the shepherd.
As a young child we lived on a 17-acre farm, with chicken houses, barns, and sundry other outbuildings. When we moved there my brother acquired a half dozen Rambouillet sheep, with fat rolls of wool under their chins. My brother was to care for them, take them to the fairs, win prizes with them, and sell their offspring.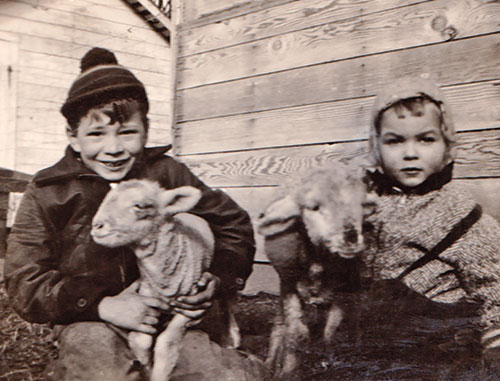 Against this background I love to think of my heavenly Shepherd and His care for me.
1 - The Lord is my shepherd; I shall not want.
My shepherd, caring for me as my brother cared for his sheep! Oh, how he cared for them! Day and night—literally! He even slept in the hay in the barn with them, especially when the ewes were lambing. Those sheep never lacked anything. They were pampered!
2 - He maketh me to lie down in green pastures: he leadeth me beside the still waters.
The front yard of our house consisted of one acre of lawn, with a row of rose bushes along the driveway. The sheep were the mowing machines, under my brother's watchful eye. I remember people slowing down as they drove past, admiring the sheep "mowing" the lawn under the close supervision of a boy and a collie dog. It was a beautiful scene.
There was plenty of water on the farm and my shepherd brother saw to it that the sheep always had tubs of clean water. Of course, the exception to this abundance of water was the winter when we had a terrible freeze cutting off the electricity—and the running water—for days. The hired man's house (occupied by our grandmother) had a large wood stove. There buckets and buckets of snow were melted to provide drink for the sheep.
3 - He restoreth my soul: he leadeth me in the paths of righteousness for his name's sake.
I'm not sure how a sheep's soul could be restored, but I think that when their shepherd petted them and groomed them, they could feel loved and cherished.
I remember that sometimes the sheep did not stay where they were supposed to stay, and had to be led or chased back to the barn or place where they belonged. My shepherd brother took care of that too.
4 - Yea, though I walk through the valley of the shadow of death, I will fear no evil: for thou art with me; thy rod and thy staff they comfort me.
As happened every year at lambing time, my shepherd brother slept with the ewes to care for their every need. One year, after a long and difficult delivery, one of the ewes gave birth to a scrawny lamb, too weak to nurse. Priscilla, as she was named, was promptly moved to a box under the stove in our kitchen. There she was bottle-fed around the clock until she became a frisky youngster, whose favorite place remained the kitchen. Prissy often waited at that door seeking for a chance to come in. She survived to become a prize-winning ewe, totally confident of her human helpers.
Whatever instruments were used to keep the sheep in their place or to shear their thick wool after the winter cold caused no fear. In fact, when the animals went to the fair—where they obtained many prizes—they were not afraid. Trusting my brother without hesitation, they obeyed any instruction.
5 - Thou preparest a table before me in the presence of mine enemies: thou anointest my head with oil; my cup runneth over.
Whether my brother's sheep were eating in their barn, enjoying the front lawn, or showing off at the fair, they did not seem to be afraid—as long as their shepherd was with them.
I can still almost smell the medicinal oil used on these sheep when they had an injury. It was a soothing odor and seemed to heal their hurts.
Cup running over? I don't think the sheep thought of that! Their needs were amply met. They had everything they wanted. What more?
6 - Surely goodness and mercy shall follow me all the days of my life: and I will dwell in the house of the Lord for ever.
And here comes the big difference! I don't suppose the sheep thought about their future. I do! I trust my heavenly Shepherd, the One who created heaven and earth, to care for me as my brother cared for His sheep. I look forward, on the basis of my past experience, to my Shepherd's care throughout the years. I look forward to living with Him forever.
I have nothing to fear, and much to look forward to!
---
Raised as a missionary kid, Nancy Vyhmeister, a professor emerita of Andrews University, now lives in Yucaipa, California.