It all started in 2007. Werner and I traveled to Chile and Argentina to meet with his relatives. After seeing two batches of them, we took a bus from Bariloche to Buenos Aires—18 hours! By the time we got there, I knew something was wrong with my husband. He seemed confused, unsure of himself, lacking his usual leadership abilities.
Beginning My Takeover
I decided I had to do something. His sister, with whom we were to spend the weekend, had not yet come back from the family reunion, so without asking questions, I made new plans. The next morning we took the ship across the river to Colonia in Uruguay so we would not have to meet people at church on Sabbath. There we found a simple hotel by the river's edge and settled into a calm weekend, where no one knew us. We slept, took walks, picnicked, and read. By Sunday Werner was his usual self, and we continued our trip to Montevideo.
I had no idea what had happened, but I realized that whatever was wrong, I had to make decisions. That was strange, because on family matters Werner, my husband of nearly 50 years, always made decisions. Little did I realize that one of the important parts of caregiving is making decisions—rapidly deciding what to do, even if that had not been your task before.
God has allowed me the privilege of being my husband's caregiver, but I so much wish for some of his old friends to visit him.
The following year Werner and I were in northern Brazil by request of the General Conference, to put together the proposal for a new Adventist university. That was something both of us had done before; we felt comfortable doing the work—in Spanish, English, and (with help) in Portuguese. All went well for the first three weeks. But during the fourth week Werner suddenly couldn't put words and ideas together. My caregiving task was to take over his writing and complete the task.
Full Caregiver Status
This time I worried about what had happened and determined to seek medical help as soon as we returned to the United States. That was the beginning of my "medical career"! As a caregiver I have learned more about all aspects of medicine than I ever wanted to know. Besides, I had to organize medical visits, treatments, medications, and the long drive to our chosen physician.
Little by little our trips to the doctor came more often; and I was the driver! Then Werner's doctor declared that Werner was suffering from dementia, and Werner lost his driver's license. Caregivers become drivers—even if they (as my problem was) do not like to drive.
Late in 2012 I realized I had driven as much as I wanted to drive. It was 20 miles from our house in Yucaipa to the doctor's office in Loma Linda. Suddenly, as a caregiver, I was in the real estate business. Of course, God joined the party, and it took only two months for us to sell our house in Yucaipa and buy one only one mile from the doctors' offices. I had never done that before, but as a caregiver you have surprises.
For three years in our new home we took long walks every morning. Then, as his steps became shorter, we stayed closer to home. I found some exercise videos, and we did easy exercises every morning. I became a physical education coach as part of my caregiving task.
For years Werner had done the dishes after every meal. Now he was forgetting how to put things into the dishwasher and wipe up the sink. He also stopped running the vacuum cleaner. Fortunately, about that time I met Toni, who took over some of my household tasks, giving me time to deal with Werner's issues. Caregivers get tired and need to get help, lest they themselves get sick.
Yes, I knew how to write a check. I had learned to use an adding machine. But neither finances nor bookkeeping was my forte. One day the church treasurer's assistant called to tell me that Werner had written a check to the church, but had not signed it. This caregiver obviously had a new job: family finances.
Decisions! Decisions! Decisions! What doctor to go to. What medications to give Werner. How much outside help I needed to have. Which instructions regarding diet to follow. The hardest one came when, suddenly, one afternoon, he sat down on his walker and had to be pushed home. His blood pressure was way too high. With the help of his brother, a physician, I decided to call 9-1-1.
In the hospital Werner could not feed himself or walk. Thank God, our medical daughter was there with us. She helped us locate him in a memory care facility. The family decision to place him there was supported by a decision some 15 years earlier—before there was any Alzheimer's diagnosis—to purchase long-term-care insurance. It is a true blessing for us.
Sharing Caregiving
Supposedly, the girls at the facility were taking care of Werner, but I found myself caring for him anyway: seeing that his hearing aids were in right, that he had his reading glasses, that he brushed his teeth. Then I was answering questions: "Why am I here?" "When can I go home?" "Why can't you stay here with me?" That brought about the battle over how to tell the truth and still be reasonable. It also brought about tiredness—from giving the same answer 25 times.
Another important issue of caregiving is the "I have to go" problem. Fortunately, today there are appropriate undergarments; however, there are few appropriate bathrooms—ones that allow for a female caregiver and a male patient. That did away with church attendance—a great grief for us.
In January 2018, when we were flying home from a Chile family reunion—probably his last such privilege—Werner quietly told me "I have to go." I knew it would happen someday, yet I panicked. We both squeezed into the airplane bathroom, with hardly room to breathe. The Lord helped me play my caregiver role, and we both came out alive and dry. The "I have to go" story repeats itself daily. There is a clear preference for my care rather than that of employees at the facility.
He has been in memory care now for more than a year. I go to see him daily, usually for a total of three hours. I read to him, run TV programs or videos he might like, take him for walks—shorter now than before. Sometimes I get him into the car and drive to a shady place where we have a "picnic" in the car. The facility caregivers do their best, but—like an infant—he needs more attention. Many days I leave the facility in tears, wishing for the man he used to be, but knowing that will happen only when Jesus returns.
Caregiving: Any Takers?
God has allowed me the privilege of being my husband's caregiver, but I so much wish for some of his old friends to visit him and take him out for a ride. He enjoys the visits of family and friends, but most of them seem to be too busy for that. Paul says, "Carry each other's burdens, and in this way you will fulfill the law of Christ" (Gal. 6:2). I know I'm privileged to bear my beloved's burden, but I'm still praying for the burden-sharing experience. Could it be that some of our friends are afraid of dementia? Perhaps we need to have a training course for church members to learn how to visit the dear ones whose physical strength and mental clarity are on the wane.
Meanwhile the wonder of heaven and the new earth have become more real to me. Then we will care more fully than ever. Yet I can hardly wait for that glorious day when caregiving days, as I know them now, will be over.
---
Nancy Vyhmeister, a specialist in theological research methods, retired to Loma Linda, California, after decades in classroom ministry all over the world.
Seminary taught me many things, but what I learned about ministry I learned from my mother. A 1928 Loma Linda Sanitarium and Hospital dietetics graduate, my mother—Hazel (Ausherman) Weber, later Rippey—practiced ministry for decades in the United States, Uruguay, Argentina, Peru, Ecuador, and Pakistan. No matter where she lived and worked, she ministered in many ways. Let me illustrate.
She Cooperated
When the Second World War affected everyday life in the United States, the Adventist Church designed and implemented a women's corps. The pastor at the Sunnyside church in Portland, Oregon, called Mother to his office and asked her to cooperate with the effort to start the Adventist Women's Cadette Corps.
"Well, what do you want me to do?" she asked.
"The cadettes need preparation in first aid and emergency preparedness," he pointed out. "Besides, we need to have a marching corps. I think you can handle both."
"But, but . . ." she stammered. "This is all new to me."
"Our church is grateful for your cooperation, Hazel," the pastor said, standing to shake her hand over a done deal.
I remember the marching practice—all the women wearing brown-and-white plaid pleated skirts. Those skirts swished back and forth to the rhythm of marching music and my mother's whistle.
My mother got the Red Cross books, studied them carefully, and taught the women how to prepare for emergencies. On the West Coast of the U.S. the fear of an enemy invasion was strong.
She Took Care of the Sick
When someone became ill, that person sent for my mother. She would drop everything and hurry to face the emergency—usually carrying her fomentation cloths. Her ubiquitous appearance in sickrooms all over the campus of Uruguay Adventist Academy led the doctor—who was called for more serious infirmities from the nearby town of Canelones—to quip: "So, La Señora Weber again got to the sickroom before I did!"
This was before the days of antibiotics, so Mother used water treatments. In the late 1940s Lloyd, an academy senior, came down with an infection. The doctor said there was little that could be done to help him, but Mother was undaunted. She got the hot fomentations going. Meanwhile, she had my father call together the students to pray for Lloyd while the hot and cold treatments continued. Soon the fever broke, and Mother crept home for a much-needed night's sleep.
She Fed the Hungry
Efin Gaisan lived in a windowless mud hut with a straw roof. The chickens roosted every night on the rafters. Efin was one of the first persons to arrive at Sabbath School each week. Uruguay Academy students left ample space between themselves and the smelly dear brother, but my mother invited him home to have Sabbath dinner with us—more than once!
Another time I looked down the road toward the bus stop and saw people coming toward our house. I called Mother.
My mother got the Red Cross books, studied them carefully, and taught the women how to prepare for emergencies.
Whoever they were, these people were coming toward our house, and since it was nearly lunchtime, Mother decided they should be fed.
Instructions followed quickly as she lit the kerosene stove. By the time the people—whom we hardly knew—knocked on our front door, lunch was well under way.
She Innovated
One day Mother got word that unexpected guests would be coming to our house for lunch. What to feed them? she asked herself. She had started a large batch of cottage cheese, but it would take hours to finish preparation. Her solution? Put the unfinished cottage cheese in a bag in the washing machine, swish it around for a few minutes, then put it through the washing machine spinner. In a few minutes the cottage cheese was ready for our guests.
Once she was asked to teach a cooking class at the Adventist church in Guichón, a country church hours by train from where we lived. She could not take much equipment, and hoped she'd find some of the needed items there. One of the things she required was an eggbeater. No one had one. Two forks in her right hand beat the eggs—not as fast as her eggbeater, but they worked.
"I should have known," she mused as she told us the story. "If I had used a beater, they would not have been able to replicate my recipe."
She Did What Had to Be Done
Roberto, an academy student, was sick. Whatever was wrong, the doctor ordered intravenous injections. Roberto came directly to our home for help. Mother looked at the doctor's orders and the vials of medicine. She had given many shots, but never an intravenous one. She had syringes and needles on hand because my father's asthma frequently required injections.
As she boiled a syringe and needle, she prayed: "Lord, help me to find the vein and do this right." When she was ready, she took Roberto out on the front porch where the sunlight was bright so she could see, she told us later.
Within a few minutes it was all over. God had helped her, she affirmed!
Another episode of doing what had to be done happened when the neighbor across the street went into labor with her second child.
"Please go over and stay with Celestina while I get the midwife," husband Ricardo insisted. The baby, however, was coming more quickly than expected. Fortunately, Mother had recently taught a first-aid/emergency-medicine class about how to deliver a baby. Mother lit the kerosene burner and put scissors and string on to boil. The baby, a healthy boy, was born, and mother tied the cord. Today this baby has retired after a fruitful career as a pastor.
She Led a Serious Devotional Life
Once we left each day for school and work, my mother regularly spent an hour in personal devotions, usually from 9:00 to 10:00. Her reading included the Bible and Ellen White's books.
The prayer part was amazing to me as a young girl. I remember sliding through the pass-through closet between my room and hers to listen to her prayers, said out loud, often with tears. So that is the way one should pray, I thought.
One day my father came home with a story of a near disaster: after some serious rainfall the well and pump house had caved in just seconds before he was to step into it.
"At what time did this happen?" Mother asked.
"About 10:00," my father replied.
We couldn't believe the look on her face. She said, "Just before 10:00 a.m. I was finishing my devotions and was leaving the bedroom when I felt a voice telling me, 'Go pray for Chuck.' So I did. I knelt down and prayed for your safety."
Then they were in each other's arms, and we all praised God for His protection of my father. Mother was open to the urging of the Spirit, who came so close to her in her devotions.
She Taught
My first memories of Mother teaching are her nutrition classes, taught to nursing students at Portland Adventist Sanitarium. As I listened I would do drawings of the foods she talked about.
Some of her teaching was not in a classroom. Early in her stay at Uruguay Academy, when my father had a bumper crop of tomatoes, she taught the kitchen girls how to bottle tomato juice.
Although she also taught girls' physical education, English, and first aid during the seven years in Uruguay, nutrition was her favorite class. At first there was no lab, so the students met in our home. In time, Mother raised enough funds to set up a lab, complete with all the equipment needed to cook healthful meals.
In Argentina, Peru, Ecuador, and Pakistan she taught the techniques and virtues of healthful cooking. For many students these were the first lessons in plant-based eating. Her teaching was based on up-to-date science (much of it from Loma Linda, as well as common sense). It was supported by counsels fro
m Ellen White. After she retired, she continued teaching cooking classes in local churches.
Kids loved Mother's Sabbath School classes. Adults did too. She spent hours reading, making notes, and preparing questions. She didn't quit teaching her adult Sabbath School class until she was nearly 90 years old.
She Preached
I was about 5 years old the first time I heard my mother preach. It was in the small church in Gresham, Oregon. Her topic was healthful living. She used a flannel board to illustrate her sermon. We all watched and listened and learned. Since this was the early 1940s, she used the lower Sabbath School platform—"because of the brethren's funny ideas," she told me when I asked why.
Her speaking went beyond health topics to the practical matters of Christian life. I don't think she ever studied homiletics, but everyone seemed to enjoy her preaching.
The notes in Mother's files show different approaches to preaching. All of them are full of Bible texts and stories, among which her personal stories are prominent. Her topics reflected her deep knowledge of Scripture and Ellen White's writings.
If you had asked her if she was a preacher, she would have said "no." "But I am sharing God's Word," she would have added.
Mother never attended seminary, but she ministered for God, sharing His love in everything she did.
---
Nancy J. Vyhmeister is a professor emeritus of mission at the Seventh-day Adventist Theological Seminary in Berrien Springs, Michigan.
On nights when sleep does not come, I lie in bed, repeating Scripture to myself. One of my favorites is Psalm 23. I repeat it to myself in the King James Version in which I learned it, analyze its parts, not looking for the meaning of Hebrew words, but thinking of the past, when my brother was the shepherd.
As a young child we lived on a 17-acre farm, with chicken houses, barns, and sundry other outbuildings. When we moved there my brother acquired a half dozen Rambouillet sheep, with fat rolls of wool under their chins. My brother was to care for them, take them to the fairs, win prizes with them, and sell their offspring.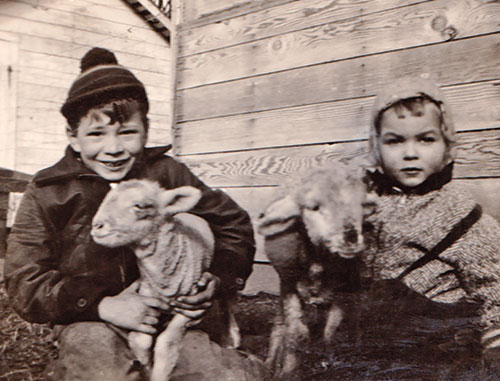 Against this background I love to think of my heavenly Shepherd and His care for me.
1 - The Lord is my shepherd; I shall not want.
My shepherd, caring for me as my brother cared for his sheep! Oh, how he cared for them! Day and night—literally! He even slept in the hay in the barn with them, especially when the ewes were lambing. Those sheep never lacked anything. They were pampered!
2 - He maketh me to lie down in green pastures: he leadeth me beside the still waters.
The front yard of our house consisted of one acre of lawn, with a row of rose bushes along the driveway. The sheep were the mowing machines, under my brother's watchful eye. I remember people slowing down as they drove past, admiring the sheep "mowing" the lawn under the close supervision of a boy and a collie dog. It was a beautiful scene.
There was plenty of water on the farm and my shepherd brother saw to it that the sheep always had tubs of clean water. Of course, the exception to this abundance of water was the winter when we had a terrible freeze cutting off the electricity—and the running water—for days. The hired man's house (occupied by our grandmother) had a large wood stove. There buckets and buckets of snow were melted to provide drink for the sheep.
3 - He restoreth my soul: he leadeth me in the paths of righteousness for his name's sake.
I'm not sure how a sheep's soul could be restored, but I think that when their shepherd petted them and groomed them, they could feel loved and cherished.
I remember that sometimes the sheep did not stay where they were supposed to stay, and had to be led or chased back to the barn or place where they belonged. My shepherd brother took care of that too.
4 - Yea, though I walk through the valley of the shadow of death, I will fear no evil: for thou art with me; thy rod and thy staff they comfort me.
As happened every year at lambing time, my shepherd brother slept with the ewes to care for their every need. One year, after a long and difficult delivery, one of the ewes gave birth to a scrawny lamb, too weak to nurse. Priscilla, as she was named, was promptly moved to a box under the stove in our kitchen. There she was bottle-fed around the clock until she became a frisky youngster, whose favorite place remained the kitchen. Prissy often waited at that door seeking for a chance to come in. She survived to become a prize-winning ewe, totally confident of her human helpers.
Whatever instruments were used to keep the sheep in their place or to shear their thick wool after the winter cold caused no fear. In fact, when the animals went to the fair—where they obtained many prizes—they were not afraid. Trusting my brother without hesitation, they obeyed any instruction.
5 - Thou preparest a table before me in the presence of mine enemies: thou anointest my head with oil; my cup runneth over.
Whether my brother's sheep were eating in their barn, enjoying the front lawn, or showing off at the fair, they did not seem to be afraid—as long as their shepherd was with them.
I can still almost smell the medicinal oil used on these sheep when they had an injury. It was a soothing odor and seemed to heal their hurts.
Cup running over? I don't think the sheep thought of that! Their needs were amply met. They had everything they wanted. What more?
6 - Surely goodness and mercy shall follow me all the days of my life: and I will dwell in the house of the Lord for ever.
And here comes the big difference! I don't suppose the sheep thought about their future. I do! I trust my heavenly Shepherd, the One who created heaven and earth, to care for me as my brother cared for His sheep. I look forward, on the basis of my past experience, to my Shepherd's care throughout the years. I look forward to living with Him forever.
I have nothing to fear, and much to look forward to!
---
Raised as a missionary kid, Nancy Vyhmeister, a professor emerita of Andrews University, now lives in Yucaipa, California.